In The News
---
9/2017 Luciana Salmi receives the Osher re-entry scholarship from the University of Utah. Congratulations, Luciana!
---
9/2017 Luciana Salmi received the "Francis Family Foundation Undergraduate Research Opportunities" scholarship for her project, entitled Does The Effect Of Prenatal Anxiety On Newborn Behavior Depend On Maternal Social Support?. Congratulations, Luciana!
---
9/2017 Brendan Ostlund receives the Society for Research in Child Development Dissertation Funding Award. Congratulations, Brendan!
---
8/2017 Luciana Salmi and Nicolle Eldredge receive the prestigious Undergraduate Research Opportunities Program (UROP) award for their respective research projects. Congrats, Luciana and Nicolle!
---
8/2017 Samantha Llewellyn receives the Undergraduate Psychology Service Internship (UPSI) award for her internship placement at Utah Community Action. Congrats Sam!
---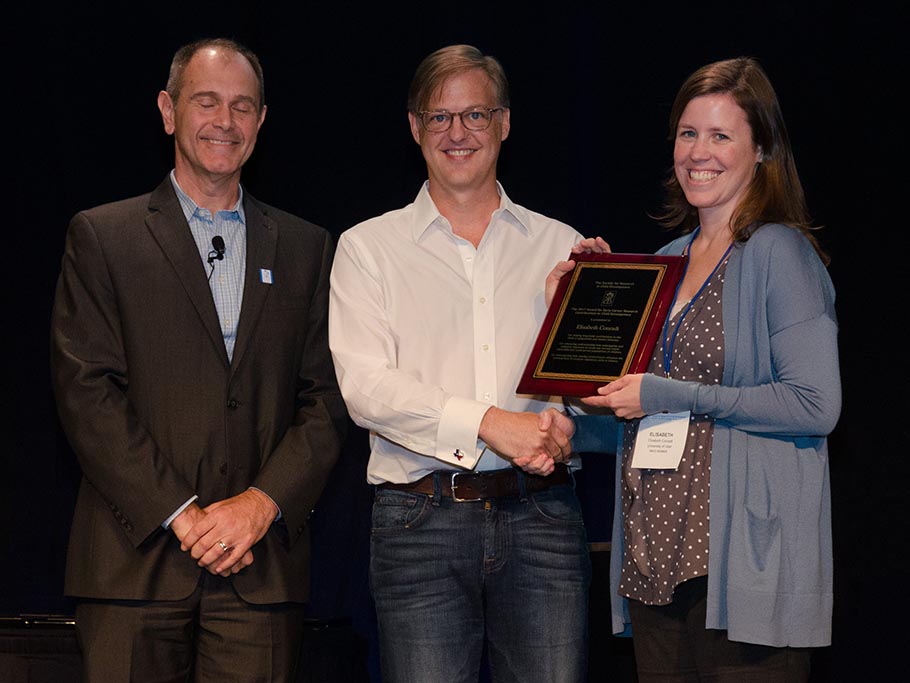 7/2017 Elisabeth Conradt receives the Kucharski Young Investigator Award from the International Society for Developmental Psychobiology. This award recognizes a promising young investigator in the field of Developmental Psychobiology.
---
4/17/2017 Dr. Conradt receives the Society for Research in Child Development Early Career Research Contributions Award!
---
5/19/2016 Brendan Ostlund receives funding to collect pilot data for his NRSA proposal from the Consortium for Families and Health Research (C-FAHR) at the University of Utah!
---
4/21/2016 Ashma Shrestha has been awarded a Ronald E. McNair Scholarship to continue her research in the CAN Lab for the next 2 years. Congratulations, Ashma!
---
3/30/2016 Yanping Jiang receives the 2016 Society for Research on Adolescence International Young Scholars Program Award provided by the Jacobs Foundation to fund her travel and participation at the 2016 Biennial Meeting of the Society for Research on Adolescence in Baltimore, Maryland!
---
3/30/2016 Brendan Ostlund receives the Clayton Award for Excellence in Graduate Research from the University of Utah. The funds will be used to support his training in infant EEG with Martha Ann Bell and for pilot data for his F31 NRSA proposal!
---
3/28/2016 Nicolle Eldredge receives a $5000 Psychology Department Tuition Waiver Scholarship.
---
2/13/2016 Zero to three describing Dr. Conradt's research on the buffering effect of maternal sensitivity on infant epigenetic outcomes. Learn more.
---
1/10/2016 Abby Bossart has been named a Student Innovator at the University of Utah! She is recognized for her outstanding academic progress and her commitment to working with refugee women. Congratulations, Abby! More information here.
---
12/19/2015 Liz Conradt received the Association for Psychological Science "Rising Star" award. The rising star designation "recognizes outstanding psychological scientists in the earliest stages of their research career whose innovative work has already advanced the field and signals great potential for their continued contributions." More information can be found here.
---
12/1/2015 Liz Conradt received the Victoria S. Levin Grant for Early Career Success in Young Children's Mental Health Research. The aim of the award is to "heighten the chances of early success in achieving federal funding for developmentally-informed research that addresses the early foundations of children's mental health and well-being." More information about the award can be found here.
---
---
---